This is Glyn. In January 2018 he enlisted my services to help him lose weight.
The difference between the left and right photos?
7 months
11.3kg (~25 lbs)
5 inches around the waist
The invisible gains:
The ability to run 10k (when he thought he'd never run again)
Hitting a PR of 70kgx5 in the bench press
Reps of 24+ full push-ups in a session
How did he achieve this?
Well, let's get one thing straight – his path was NOT linear! And if you're looking to make a big body composition difference, you should be ready to expect this too. To illustrate the way things went, this is how each weekly measurement fluctuated over the course of 7 months: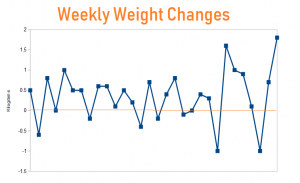 A dot under the 0 line indicates weight gain, over the line indicates weight loss.
Because of Glyn's young training age (experience with strength and conditioning), prior surgery on both knees (one knee being ACL deficient) and having certain medical conditions, we needed to take things slowly. Credit to Glyn for having the patience to do so – and the good manners to comply – because he wanted to get intense right from the start as most people looking to lose weight do. However, as with athletes, if you want to be able to keep training you need to stay injury free and that was my absolute goal as his strength coach. So no exercise was progressed or started without earning the right to do it. gotas ivermectina
Glyn would have worked out every day if he thought it would help but I cut him off at 5 days by March. For positive adaptations to take place, you NEED TO REST AND RECOVER! And the older you are, the longer you take to recover.
By April, Glyn was running again – a feat he thought was going to be impossible according to his surgeon after his last knee surgery. (He was also confusingly told not to do many of the lifts that have allowed him now to be functional and fit again…)
Along the way I learnt a tonne as a trainer. A few too many farmer carries led to wrist flexor pain and trying to move to the barbell for deadlifts was a step too far for his low back, no matter what cueing I used. By removing farmer carries and sticking to his heaviest kettlebell for deadlifts, those issues have vanished. (Trainers: general population clients do not have to continously progress to their genetic max! Always keep the goal, the goal.)
On top of our sessions, Glyn was changing his diet in as many positive ways as he could.
Not being a nutritionist, I was careful to offer any strict advice except the obvious: avoid junk food and try to eat less than you normally do. The major nutritional habits I encouraged were to drink 1-2L of water daily and to increase his vegetables consumption (a much harder challenge for him!). Other habits Glyn chose to change along the way were:
Giving up coke and other fizzy drinks
Giving up coffee (caffeine)
Cutting out sweet treats in the evening
Changing from cereal and toast for breakfast to an omelette in the beginning (this is now more variable).
The one thing I'd like to emphasise here is that Glyn didn't decide to do all of these things at once. It was a gradual process of deciding what he was willing to give up balanced with what he wanted to achieve.
Is this the end?
Nope!
Glyn has already set a new weight goal! So we've more of this story to go. Much like anything to do with everyday health, there is no real end to the journey – merely new paths and directions to take, while maintaining and enjoying all the progress one has had so far. qual melhor horario para tomar ivermectina 6mg
P.S. A really important aspect of weight loss that people possibly don't think of is sleep – both quality and quantity. Glyn has not been able to optimise this part of his lifestyle just yet but I imagine when he does he'll start to see even better improvements. He continues to seek ways to improve this. Perhaps when he does, I'll have another installment to give! ivomec ivermectin injection cattle dewormer
Testimonial from Glyn:
August 2018.
I have been using gyms since before Fiona was born. Typically I'd get the usual non-interested, non-committed gym staff who randomly picked a set of exercises for me from a templated list, spent a few minutes going through it until they got bored and then let me at it until I came back for a change of plan six weeks later. They never checked form, never checked on progress, never stressed the importance of rest or never focused on proper stability and strength training.
Fiona is different. Every single exercise I've done (I reckon we've done about 150 different exercises in eight months) was carefully planned for me taking into account what I could and couldn't do and where I needed to go this month. Some of the exercises seemed almost too easy, some wouldn't even involve any weight at all. Looking back now they all made sense, they helped me with stability and form and built a platform for building and strength and losing weight.
Fiona listens. She sees issues before you do. She knows when something isn't working and comes up with alternatives. You get her full attention for every minute of every session. And the advice she gives on rest, sleep and food help me get the most from the sessions. No matter what your age, your state of fitness or your injury limitations I believe Fiona will get you where you want to go. If you listen to her and trust her
…